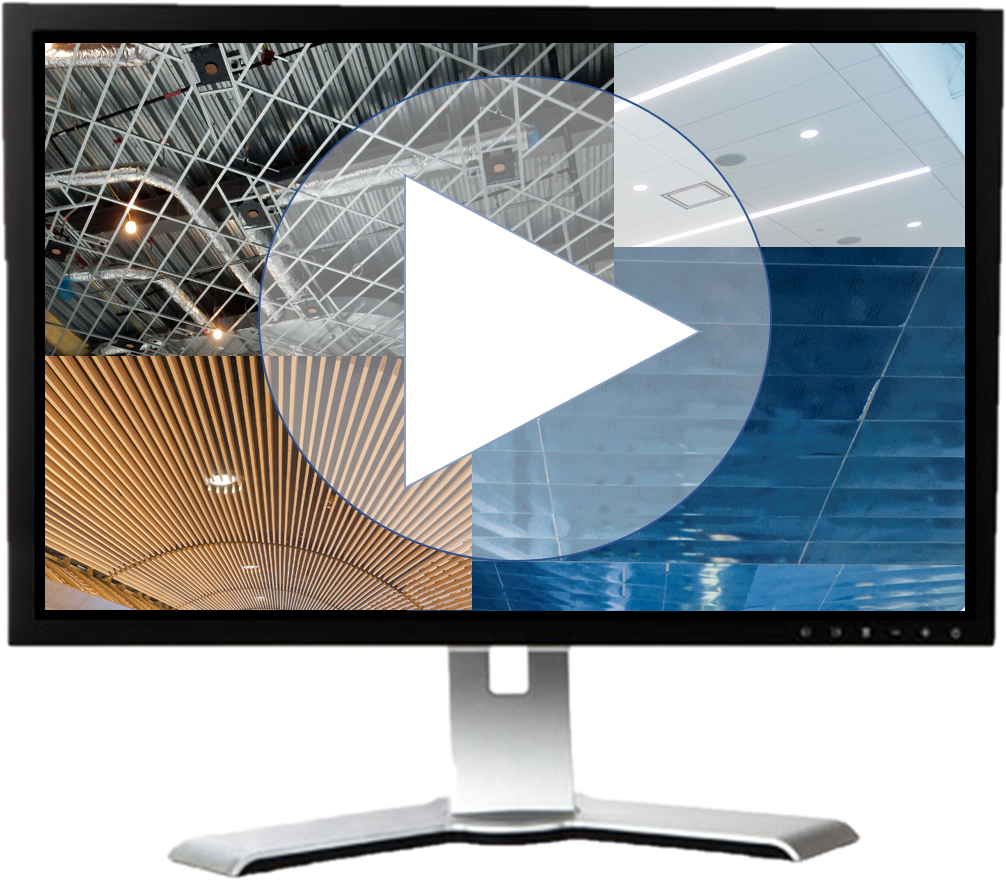 Welcome to the CISCA video library!
Here you can find links to expert video presentations from our valued Manufacturer members.
If you are a manufacturer member and would like to share your training videos on this site, please contact us.
Armstrong
Mineral Fiber and Fiberglass
- SoundScapes Shapes Installation… With SoundScapes Shapes Acoustical Clouds, the sky's the limit! SoundScapes Shapes Acoustical Clouds are available in a wider variety of sizes, shapes and colors. They can be hung individually or in innovative configurations from ceilings or walls to help silence a space and define an area. Video on the different installation options of SoundScape Shapes with installation tips.
- Optima Capz Installation… Solving acoustical challenges in exposed structure spaces has never looked so good! Optima and Spectra Capz work well in either retrofit or new spaces – they offer a flexible fit with many panel size options that can be installed directly to the deck between structural bar joists or on drywall or suspended like a regular ceiling. Panels can be designed in long runs or grouped based on the acoustical needs of the space. Video on the different installation options of Capz with installation tips.
- TechZone Yoke Installation… TechZone Ceiling Systems provide a monolithic, uncluttered ceiling visual by organizing technical services into 4", 6" or 12" wide zones. Now, you can configure all your services – including linear recessed lighting fixtures (LED now available) and pendants, chilled beams, air diffusers, returns and sprinkler systems – into the TechZone System. Our new TechZone yoke even enables true, continuous linear lighting. The result is a clean, custom look that uses standard ceiling and grid components. Video on the installation of the yoke for continuous runs in the TechZone areas.
- Ultima Plank Installation…Ultima Planks offer a fine-textured monolithic plank visual. The exclusive Shiplap edge detail conceals grid. Also available with Tegular edge detail. Plank may be used with other Ultima or Optima panels for a consistent look across spaces. Video on the installation of the suspension system in the corridor and the shiplap panels and grid interface.
WoodWorks
- WoodWorks Concealed Installation…Create custom looking wood ceilings using standard suspension system components. WoodWorks Concealed ceilings offers a variety of standard veneers and sizes. Video on the installation of WoodWorks Concealed
- WoodWorks Channeled Installation…WoodWorks Channeled acoustical ceiling and wall planks are available 6" wide, 8' or 10' long and 3/4" thick. The two long sides interlock with a tongue and groove detail. The two short ends are cut square. Clips hold the panels to the wall or to a grid ceiling. Video on installation of WoodWorks Channeled Plank ceilings and walls.
- WoodWorks Grille Installation… WoodWorks® Grille is a solid wood ceiling system available standard in two blade heights and four warm wood finishes. Both blade heights are offered in 1' x 8' panels and install on standard Prelude® 15/16" grid with a Dowel or Backer. Video on the installation methods of WoodWorks Grille.
- WoodWorks Linear Installation… WoodWorks Linear ceilings consist of unperforated nominal 4-1/2" wide x 8' long or 6" wide by 8' long wood plank modules that are designed to install on Linear Carriers
- with factory-applied clips. Each type of linear plank module incorporates a ¾" reveal between planks that is covered by black fleece applied to the back side of the planks at the top of the reveal. The linear wood planks are not accessible after installation. Video on the installation of WoodWorks Linear.
MetalWorks
- MetalWorks Wings Installation… MetalWorks Wings is a decorative ceiling element consisting of a 10 foot long extruded aluminum spine which is supported from the building structure by Electrical Metallic Tubing (EMT) and restrained from swaying by 1/16" diameter aircraft cables. Nominal 24" x 45" aluminum panels extend from the extrusion to complete the "wing" configuration. MetalWorks Wings is also available as a wall-mounted system. Video on the installation of MetalWorks Wings supported from structure and restrained from swaying.
- MetalWorks Linear Installation… MetalWorks Linear is a linear metal ceiling system with either a Connections or Contrasts visual. Linear panels are available 8' long and in 4", 8" and 12" widths, including a 1-1/4" panel flange that can optionally be covered with a black plastic filler strip to create the Contrasts visual. Video on installation on both the MetalWorks Linear Contrast and Connection systems.
- Serpentina Waves Installation… The Serpentina WAVES 3-Dimensional Ceiling System consists of a group of standard length curved main beams, straight cross tees, curved and straight perimeter trims and 2' wide flexible infill panels available in lengths ranging from 4' to 12' increments. Video on the installation of Serpentina WAVES.
Drywall Grid Systems
- Drywall Grid System vs. Traditional Method Installation… Armstrong Drywall Systems install faster than traditional methods which helps you complete jobs under costs and ahead of schedule. The time saving potential of DGS becomes clear in this side-by-side comparison of the installation of a typical drywall ceiling. Professional contractors install both track and channel, and DGS, as they would on a job site. Video demonstrates the time and labor advantages of Armstrong Drywall Systems versus traditional methods.
---
Trim-Tex
Black Widow Sander
Instructional video on Trim-Tex Black Widow 540 Pro Series Sander and Sanding Pads.
Click here to view the video.

Crown Moldings
Instructional video on Trim-Tex Crown Moldings products
Click here to view the video.

Magic Corner Bead
Click here to view the video.

Intensive Vinyl Bead Installation
Instructional video on Mud Set Bead.
Click here to view the video

Trim-Tex Product Installation
General Trim-Tex Bead Installation Video
Click here to view the video.
Drywall Art: The Possibilities are Endless: A Showcase of Drywall Art
Click here to view the video.

Buttboard Installation
Finishing drywall butt joints, for perfectly flat walls.
Click here to view the video.

Magic Corner Testimonial
Myron Ferguson, "That Drywall Guy," testimonial and installation of Trim-Tex Magic Corner Bead
Click here to view the video.

Mud Set Bead Testimonial
Myron Ferguson, "That Drywall Guy," testimonial and installation of Trim-Tex Mud Set Beads
Click here to view the video