CISCA Publications
Click here to login and you can order these publications at the CISCA E-Store.
CISCA's Expert Technical Publications
CISCA's publications are a must for your technical and training library. Many of the guides are specified in building codes or referenced in construction specifications nationally and internationally. Browse our list (below) of technical publications available for purchase through our E-Store. Most of the publications are available for immediate download in an ISSUU format at a slightly lower price than the hard copy. Click on the title of the publication to view the first page or table of contents of that publication.
Most of these may be purchased through our E-Store and are available in an ISSUU format. Purchasing an ISSUU format of the publication eliminates the shipping and handling charge and you receive a link to the publication as soon as your order is completed.
Click here to purchase an ISSUU or hard copy publication.
Don't miss another issue of the newly redesigned Interior Construction magazine, "The Resource for the Ceilings & Interior Systems Construction Industry." Our features examine leading industry issues and trends like specialty ceilings, LEED, acoustics and more. Each issue features industry news, new products, columns from industry experts and CISCA news and initiatives. Subscribe today!
To reserve your spot in CISCA's communications, visit the media kit or contact:
To order publications or a subscription to
Interior Construction,
go to the E-Store or download an
order form
and fax to 866-560-8537 or mail to:
CISCA
1010 Jorie Blvd, Suite 30
Oak Brook, IL 60523
You can also purchase copies of the magazine in the E-Store. Go to publications - mailed copies for the last issue and publications - pdf for the last two issues. If you are a member, you can log in and view the latest issues free of charge.
No returns on publications. Questions? Call 630-584-1919.
COMPLETE LIST OF CISCA

PUBLICATIONS
NOTICE FOR CISCA SEISMIC PUBLICATIONS:
CISCA's Seismic Publications have been archived and are out of date. CISCA publications for Seismic zones 0-2 and 3-4 and our Seismic Construction Handbook are legacy documents. They were formerly referenced directly by earlier versions of the building codes. Since then, these legacy documents were replaced by ASTM consensus standards. Their value is for legacy (i.e. grandfathered) projects that are governed by earlier versions of the code.
The current building code the International Building Code (IBC) should be followed. Local codes may also apply.
Seismic Installation Requirements can be sourced in IBC Section 1613 through reference to ASCE7. Further, ASCE7 references ASTM C636 and ASTM E580 for installation. While a specific project's specifications or codes may stipulate a CISCA reference, we recommend sourcing information about your application directly from IBC: https://www.iccsafe.org/ and www.astm.org
As always, the specification of the Seismic design category and installation thereof must be specified by a professional engineer or registered architect having jurisdiction on the project in question. As codes continue to evolve, check with a local official prior to designing and installing a ceiling system. Other restrictions and exemptions may apply.
Specifications or codes from a past project may have referenced CISCA Seismic documentation. In this case, archived copies may still be made available, but we caution that these documents are strictly for archive (historical) purposes only.
The CISCA Technical Council is working on updating CISCA seismic documentation and we expect new documentation to be made available in 2018
---
2011 Brief History of CISCA
This booklet will provide you the history of CISCA during its first 60 years. This publication is free to members in a PDF format.

Member Price: FREE
Non-Member Price: $20.00

Click here to purchase the CISCA publication.

---

Acoustical Ceilings Use & Practice

This publication has complete information on properties of sound and acoustical materials, terminology and installation, as well as a comprehensive evaluation of acoustical ceiling systems.

Member price: $20.00
Non-member price: $45.00

Click here to purchase the CISCA publication.

---

NEW 2012 edition (also available in a pdf format)
Covering almost everything you need to know about ceiling installation, this publication explains the proper methods of installing various types of systems allowing you to train your employees more efficiently and effectively.

Member price: $70.00
Non-member price: $90.00

Click here to purchase the CISCA publication.

---

Custom Acoustical Glass Fiber Wall & Ceiling Panels

This guide will assist with the design and specification of customized acoustical wall panels, and the selection of the most effective materials for each wall application.

Member price: $15.00
Non-member price: $45.00

Click here to purchase the CISCA publication.

---

Glass Reinforced Gypsum Guides
Learn about glass reinforced gypsum products, with emphasis on relating all necessary steps essential for complete and successful products.

Member price: $10.00
Non-member price: $35.00

Click here to purchase the CISCA publication.

---

Metal Ceilings Technical Guidelines
2015 edition -- Reviewed 2018
Developed by industry manufacturers and contractors, this is the first industry technical publication to guide the selection and specification of metal ceilings.

Member price: $20.00
Non-member price: $50.00

Click here to purchase the CISCA publication.

---

Metal Security Ceilings Use and Practice

CISCA's Security Ceiling Committee produced this book to help justice facility owners, designers, and contractors select metal security ceiling products that provide design solutions for today's detention facilities.

Member price: $20.00
Non-member price: $55.00
Click here to purchase the CISCA publication.

---

Recommended Test Procedures for Access Floors
2007 edition
This publication recommends test procedures and reporting formats that have broad applications. Each test is described by its purpose, preparation, procedures and reporting methods. New sections include Uniform Load testing, Drop Impact Load testing, Fire Performance and Air Leakage.

Member price: $20.00
Non-member price: $50.00

Click here to purchase the CISCA publication.

---

Seismic Construction Handbook -- In the process of being updated

Compiled by CISCA's Seismic Committee. Includes seismic construction requirements for lay-in suspended ceilings.

---

Wood Ceilings Technical Guidelines
The purpose of this publication is to serve as a guideline for architects, designers and contractors on the design, manufacture, handling, installation and maintenance of wood ceiling systems.

Member Price: $35.00
Non-Member Price: $75.00

Click here to purchase the CISCA publication.
---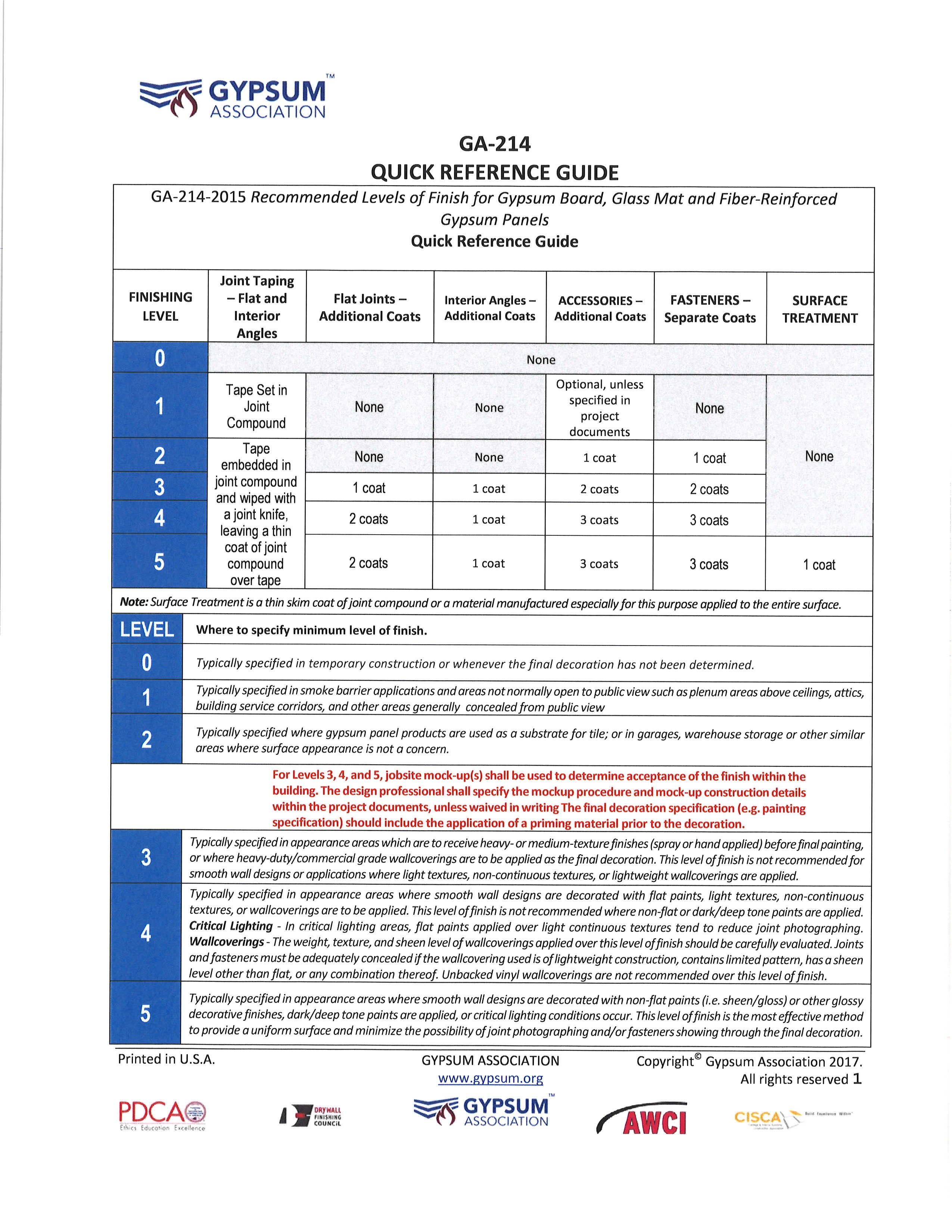 Recommended Levels of Finish for Gypsum Board, Glass Mat and Fiber-Reinforced Gypsum Panels - 2017
This publication is a free download. Click on the link above or go to the e-store, pdf copies, to download.